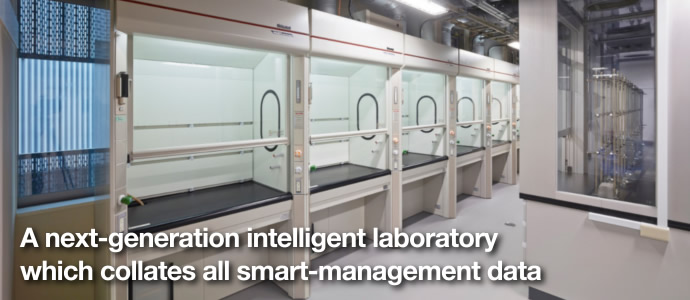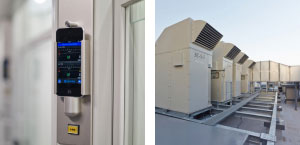 The next-generation intelligent laboratory, as proposed by Oriental Giken, an expert company with extensive knowledge of all fields of research, which is constantly rethinking the concept of innovative research facilities.
Our Smart Lab solution makes full use of cutting-edge ICT technology to manage all research facility data.
Smart Lab System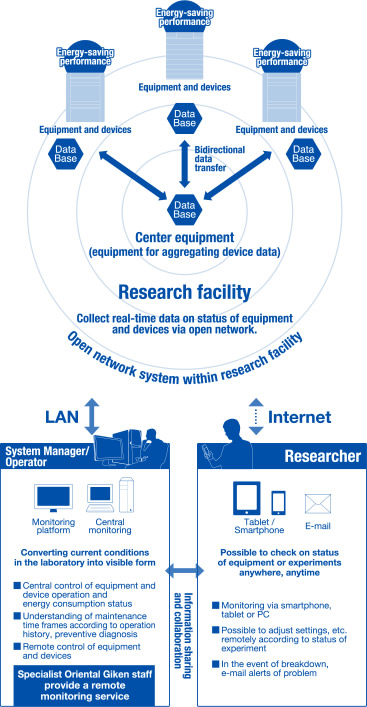 Lab data can be shared
24 hours a day, anywhere
The Smart Lab System consists chiefly of Loytec components with web server, PLC, and I/O terminal functionality. These are intelligent labs; adding network functionality to the Green Lab System, it enables data sharing 24 hours a day, anywhere. In addition to interfacing between digital signals such as alarm contacts and on/off signals, and analog signals such as temperature, humidity and airflow data, many other actions are possible: online camera link-up, equipment monitoring, equipment operation, alarm notification, remote supervision, data collation, etc. In future, the operational scope will widen to include remote supervision, and maintenance based on the analysis of collated data.

Research laboratory data and equipment status
smartly managed 24 hours a day
01 Activate research activity
The object of study and research equipment can be checked and controlled at any time via PC or smartphone. This enables more active research activity as researchers are freed from the constraints of the laboratory and equipment.
02 Stress-free maintenance and management
Equipment operational data is constantly collated, enabling preventive action to be taken to avoid malfunctions and rapid cause analysis should malfunctions happen. Management and maintenance can be streamlined and safety improved.
03 Converting energy consumption into visual form
By constantly collating energy use data and converting it into visual form, waste is prevented and the facility as a whole saves energy. Energy efficiency is greatly improved through use of a combination of Green Lab-compatible equipment and devices.
Purpose-specific management system
Remote maintenance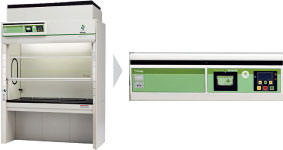 Consolidated management with
G-Guard software (optional)
G-Guard software, able to provide consolidated management of data from multiple green fume hoods, is available as an optional extra. Warning messages can be sent automatically to a researcher's mobile phone if the sash is open too high, if the temperature inside the hood rises, or if leaks are detected by the solvent sensor, etc.
Laboratory fume hood management system
In a laboratory equipped with a number of fume hoods, the local ventilation system is managed as a network through a high-speed communication system. The management system analyzes the operation of the ventilation throughout the facility and feeds back data to the user. This achieves both improved safety and energy saving.
Rack Net (Innorack compatible system)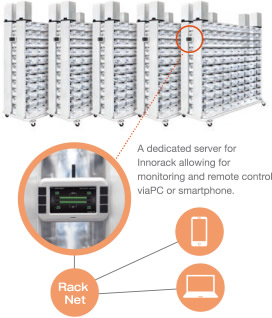 Laboratory animal breeding racks—IVC LAN system
Individually ventilated cage (IVC) rack differential pressure, ventilation cycles, etc. can be monitored and controlled via PC or smartphone, and data can be constantly collated and managed. A warning will be e-mailed should any malfunction occur in IVC rack operation.

Pharmaceutical management system
STORAGE4
A system for easy management of laboratory pharmaceutical use that records "when," "who," "which," and "how much." This system manages pharmaceuticals efficiently (stock tracking, entering and dispatching from the warehouse, security, etc.).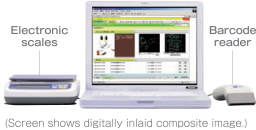 Laboratory security
The establishment of a clear security policy
When thinking about the laboratory security environment, the first step in drawing up a clear security policy is to decide how "open" or "closed" it should be. This is because a certain amount of stress among users and visitors cannot be avoided if access is limited by robust crime prevention functions and supervision systems. Thereafter, the facility should be divided into zones, and devices and ID management should be put in place in line with the security level of each area. Other important aspects are the introduction of an ID card management system which contributes to smooth access for guests, and the creation of a management system which finds the correct balance between business efficiency and crime prevention measures.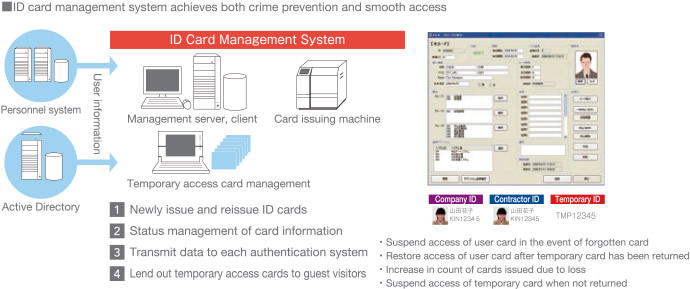 A log management system at the physical and information levels
One of the pillars of corporate compliance, an essential requirement of any company, is of course the maintenance of a security environment. The main requirement is the creation of a system which fulfils the requirements of corporate responsibility. For example, a robust traceability system is critical in order to find out how and when an incident such as a data leak occurred. CCTV and flap barrier gates provide physical security, but this alone is insufficient; the management system must also encompass information security—i.e. through a robust ID verification system, PC start-up controls, and printer use management, etc. First of all, logs of all activities must be compiled and carefully managed. This will heighten awareness of whole-company crisis management and will lead to robust compliance.