Solutions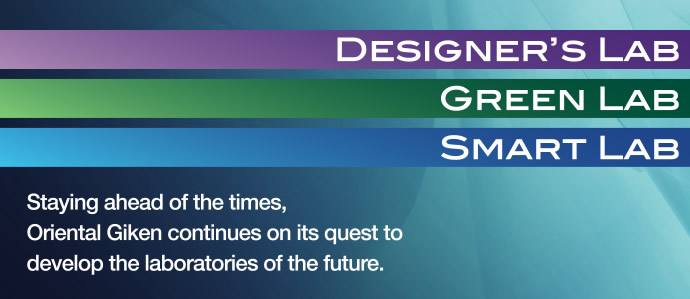 Keeping a keen eye on world and era developments,
the ever-evolving and ever-broadening future
shape of laboratories is always in our sights
The Designer's Lab. The Green Lab. The Smart Lab. These are innovative concepts we have developed at Oriental Giken to clear the way toward new possibilities in the world of laboratories. We strive to create research environments that allow the knowledge and creativity of the researcher to shine to their full potential, facility operations that incorporate a global perspective and offer ecological sustainability, and management systems that use ITC technology smartly.
This determination to stay ahead of the times is underpinned by our refusal to be fettered by existing ideas and concepts, the sincere thought we give to our R&D vision of the future, and our unshakable pride in our position as a company with unparalleled knowledge of laboratories. We take on board the current trends, with precision and sensitivity, and carefully consider the needs of local communities and the environment. We will continue to take a multi-directional approach in our contribution to laboratory development and evolution.

Cutting-edge laboratories—Strategies and implementation
Cutting-edge laboratories—Strategies and implementation
The Oriental Method has made cutting-edge research facilities and equipment possible.
The standard for next-generation laboratories begins here.